Term limits will restore public service to state government, Rauner says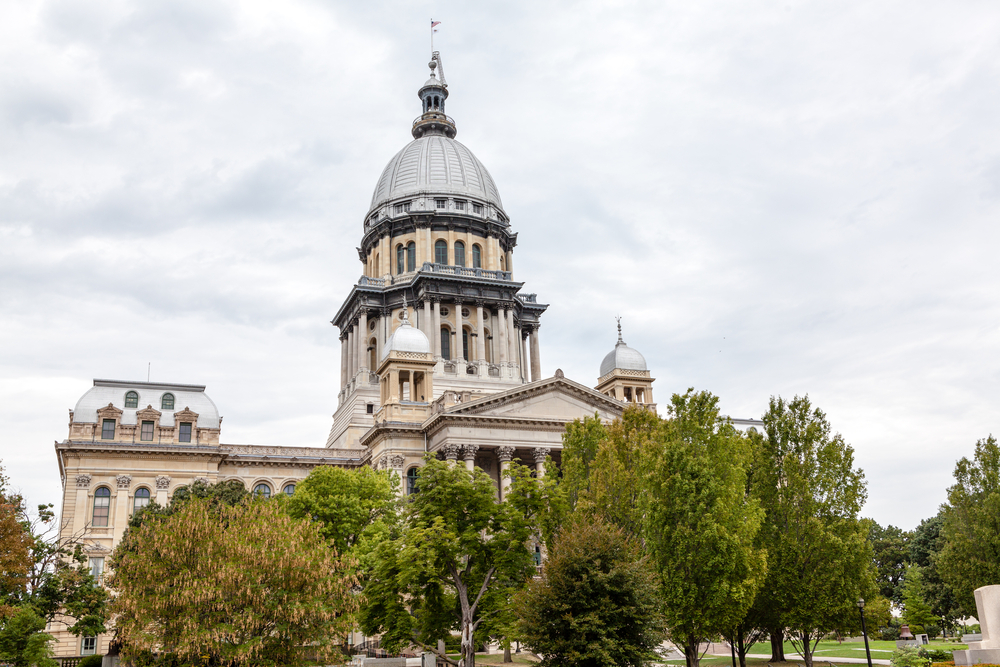 Though lawmakers to date haven't heeded Republican Gov. Bruce Rauner's call for term limits, he continued to push for change during a recent speech near El Paso.
"What we need to do is have the voices of the people heard," Rauner said. "You know 80 percent of the people of Illinois support term limits; it's overwhelmingly popular. And it's the right thing to do. We can change the culture in government and restore public service," Rauner said at a farm stop July 26 during his agricultural fly around the state.
Calling agriculture the backbone of Illinois' economy, Rauner recalled his upbringing in a dairy farming family and asked local residents for their help in pushing the General Assembly to pass a constitutional amendment for term limits and to create independently drawn legislative maps.
"We're at a key turning point in our beloved state of Illinois,: Rauner said. "I'm here to ask for your help. Two years ago, the people of Illinois demanded (these) reforms. Democrats and Republicans came together to ask for reform of the system, but the entrenched Springfield powers said no. They used the court systems to reject the reforms. It happened again (recently). We cannot let this stand. Term limits and fair maps deserve to be voted on by you, the people of Illinois."
Rauner said he plans to ask members of the General Assembly to come back to Springfield for the fall veto session that follows the general election prepared to put the two initiatives on the ballot. Rauner has been speaking about about these plans after a Chicago judge rejected a citizen amendment effort to put the redistricting reform plan on the November ballot.
"I'm term limiting myself no matter what," Rauner said. "Eight years is the absolute max that I'll do this. I'm a volunteer. I'm not taking any compensation. I'm doing this because I love Illinois."
Rauner said he thinks there should be an eight-year term limit for a statewide office and 10 years at the most for members of the General Assembly.
"That's plenty long time,: Rauner said. "Anybody who wants to be a public servant longer, there are other offices you can run for, but you don't stay locked in one, accumulating power, special interest money and getting a big juicy pension. That's not what this should be about. This should be about working for … all of the people of Illinois."
Rauner told reporters after his speech that he also doesn't have a lot of faith in the Illinois Supreme Court overriding the lower court's rejection of the redistricting reform effort.
"If you join with all of us reformers in the state government, we can give power back to you," Rauner said. "If we get term limits on the ballot, then you can vote on it and the courts can't block it. Don't let career politicians keep it from you."
The governor also reiterated his disappointed with how a lack of term limits has negatively affected the Illinois system of government.
"It doesn't work; it hasn't worked for a long time; it's a rigged system," Rauner said. "The power of incumbency in Illinois is too strong. We don't have choices; we don't have competition. We don't have the voices of the people to work for a democratic system."
When state lawmakers are in office for 20, 30 and 40 years, then the insiders and the special interest groups who make their money from the government are able to take power from the people, Rauner said.
"We've got the hardest working people in America, the best agriculture in America, and we're the heart of manufacturing in America – we have been, but we're bleeding out our jobs," Rauner said. "We've got the highest property taxes in America; we've got some of the slowest economic growth, and the highest levels of corruption, cronyism and patronage. The reason we're struggling is because of the rigged political system."
Term limits isn't going to fix everything, Rauner said. But turning around the state's broken pension system, high property taxes and unnecessary regulatory burdens on businesses, for instance, will happen if the political system is working for the public, he said.
Want to get notified whenever we write about
Illinois Governor Bruce Rauner
?
Next time we write about Illinois Governor Bruce Rauner, we'll email you a link to the story. You may edit your settings or unsubscribe at any time.
Sign-up for Alerts
Organizations in this Story
Illinois Governor Bruce Rauner
More News