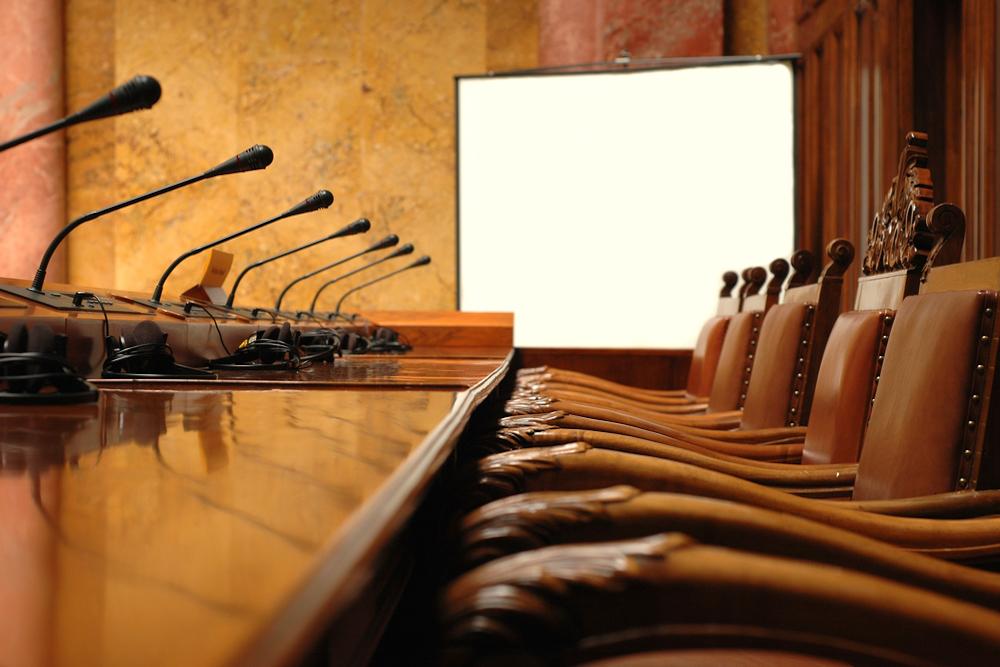 Woodford County Finance and Economic Development Committee met Aug. 13.
Here is the minutes provided by the committee:
1. Call to Order
2. Roll Call – Roll Call -Chuck Nagel (chairman), Richard Hill (vch.), Russ Cotton, Josh Davis all present. Bryant Kempf arrived at 6:02.
3. Approval of Minutes
a. Approval of July 9, 2019 Regular Meeting Motion to approve July 9, 2019 minutes made by Hill, seconded by Cotton. Motion passed.
b. Approval of July 22, 2019 Special Meeting minutes Motion to approve July 22, 2019 special meeting minutes made by Cotton, seconded by Hill. Motion passed.
4. Public Input
5. Approval of Claims Motion to approve August claims made by Cotton, seconded by Davis. Motion passed.
6. Treasurers Report The Treasure reported that all funds are positive except for fund 091. She is working with the Sheriff on this fund. As of July 31, we still have three revolving loans that are making payments. She has received intent letters from SMF and Zimmerman Power Wash to take the 30% forgiveness. She will reach out to Chip Energy to see their intent. The last report she supplied was the comparison revenue report for the month of July.
7. Budget The rules were suspended to allow the department heads and board members present to participate. It was explained that the process is to go through the budget and explain any anomalies and give the rational for such, Budgets do not need to be gone through line item by line item. After the budget has been presented, questions will be asked
a. Judicial - General Fund #150 Funds #064, #082
The bailiffs were consolidated from the Sheriff's budget and the Circuit Clerk's budget to fall under Judicial. In doing this they have been able to cut some costs. There are a few line items that have increased due to cost increases. There are some items that cannot be controlled due to the type of cases we are dealing with such as expert witnesses, and outside counsel.
b. Highway - Funds #001, #002, #003
The biggest increase is in salary. They need to purchase a GPS system as their system will be obsolete this year. Discussion on lowering some funds as the past spending does not support the amount budgeted. We have several wind farms coming into the county and it would be better to budget for those unknown expenses than have to find the money when needed. They are still putting money away for a building, The building will cost in excess of a million dollars. Mr. Moore went over projects that will be addressed next year and the cost of those projects. Discussion on purchasing a paint striper and a pick-up. The paint striper would fall under an extraordinary expense. What money is not spent out of the new equipment line is put into a reserve line for future equipment.
c. Sheriff - General Fund Departments: #170, #180, #190, #195, part of #210, #220, #225
Funds: #067, #077, #078, #085, #087, #089, #090, #091, #092, #095, #096, #099, #108, #10
The Sheriff's budget has gone up due to adding annex 4 and the repairs that need to be done there. Also we are adding another maintenance position. He provided the committee with a list of projects for each building that need to be addressed. He outlined the most crucial projects, and also listed other areas that needed to be addressed, but that were not crucial. Discussion on what would fall under extraordinary and what is classified as a repair. Discussion with the treasure as to where to put the extraordinary expenses so they are appropriated for. His budget has set money aside to transform the current board room into space for probation, and to fix annex 4 for the new board room and Child Advocacy Center. Discussion on making sure there is a project plan and we not just throwing money into these building without a plan. Discussion in past has been to build a new building down the road. Therefore the sheriff is looking at partition walls that can be moved. If a new building is projected then all these moves are temporary. The StarCom fees are for user fees, maintenance and adding new equipment. Salaries, clothing allowances, patrol supplies, educational incentives, and a few other expenses are increased because of collective bargaining. His budget also includes cost and revenue for a possible contract with the Marshalls to house federal prisoners. He estimated low on the revenue side of that contract. Discussion on this contract. The application has been filled out, and the next step is a site visit. He appropriated for it, even though he is not sure this will happen. He has also budgeted for three new vehicles. Part of the cost of these new vehicles will be paid for from fees collected. Discussion on over-time line. He has addressed some of the over-time by hiring non-deputies to work in central control. They answer phone, push buttons to open doors, etc. At the Public Safety meeting the sheriff was asked to prepare a budget for a Merit Commission. Discussion on what the Merit Commission would do. His drug fund will be decreasing due to new rulings. Discussion on the public safety tax and how it is used. The sheriff is also working with Fieldcrest School District for a possible resource officer.
d. State's Attorney - General Fund #130 Funds #081, #093, #097
The State's Attorney's budget is the same as last year with the exception of salaries. His salary is set by the state, and half of it is reimbursed to the county,
e. County Board - General Fund #100, # 290, #295, #300, #310, #320
There is an increase in salary requested. Explanation for the increase is that there have been more duties added to the position and that she helps other departments saving the county money from having to hire more employees. Other increases are due to increasing in price. We have added the Employee Assistance Program and annex 4. The budget for annex 4 is an estimate. It is currently not being used, so the charges for utilities are minimal. However, if the board room and Child Advocacy Center moves to annex 4, those utilities will increase. Discussion on salary for IT. It was stated that the sheriff hopes to have the RFP out next month for IT. Once we see the response to the RFP we will have a better idea of where that number needs to be. The software license line item went down because we have purchased multiple year contracts. It was explained that the line time will increase when those contract expire and need to be renewed. So that is an expense that will only occur every few years. It was pointed out that an extraordinary expense would be for the upgrade of Microsoft Office. With Office 365 we have to stay within two version of Microsoft. We currently are within the two versions. We do not know when Microsoft will release a newer version or the cost to upgrade the county.
f. County Clerk - General Fund #010, #160 Fund #065, #071
The County Clerk provided quotes for adding wireless audio to annex 4. To move our current system would be $2,500. Discussion on audio system in annex 4. The committee felt that moving our current equipment would be the best option. The election equipment is getting old, worn out and needs to be upgraded. Quotes for 48 DS200 and 38 express yotes were given. E$&S would buy back our old equipment and haul it off. The Clerk has been using ES&S for years and would prefer to stay with them. This purchase can be done in increments. Salary increases are due to contract negotiations. There is an increase in the budget due to elections next year.
g. Health Department - - Fund #057
There is an influx of grant funding with a potential for 5 grants. They have allocated for those grants, but may not get. Salary was increased by 3%. They have budgeted for a full time epidemiologist. 75-80% of the epidemiologist salary would be paid for by a potential grant. They have also budgeted for a full time health educator. It is Woodford County's turn (between Peoria, Tazewell and Woodfordto have the lead staff for the health educator. There is a part-time environmental health food inspector. The board of health is assessing the needs of this position with the increase in activities that sale food. There is also a PRN position to help with immunizations. The increase in the county health services line is due to the $40,000 for rent that was not budgeted for last year. Concerns were expressed regarding the 4 positions at a cost of $100,000. In the past people have had to be let go at a cost to the county. Ms. Aggrett reported that they are hoping to contract these positions out, with the exception of the epidemiologist. Questions and discussion on how a grant cost the county. If we receive a grant, we have to provide the services the grant specifies. This could include cost of employees, supplies, etc. This has to be appropriated for in the budget.
h. Supervisor of Assessment's - General Fund #110, #120
Fund #080 There was an explanation in the two stapled packets for the Supervisor of Assessor's office. New figures were brought to the board office today, and the number presented to the treasurer two months ago are also in there. There is an increase in the Board of Review. She is asking that the board be allowed to hire their own appraiser. On the Assessor Electronic Records Fund – there was a fee study done and they were undercharging on GIS fees, so that fund should increase. There is a fee for aerial photography. Questions regarding using Google maps. The state says we have to have aerial photos on record. The only real changes in the numbers presented in June and those presented today is an increase in the supervisor of assessor's salary. Half of that salary is reimbursed to the county by the state. Explanation into the reason for the increase were given. She is one of the few Supervisors within the state that can also do mapping. She is requesting the part-time employee be allowed to work 3 days instead of the 2 that was budgeted for.
It was discussed that the county needs to have a way to evaluate the employees that do not fall under a contract for salary increases,
Discussion on the sound system going into budget #320.
Question regarding the RLF. It was appropriated for this year, Fund 084, but has not been appropriated for the 2019-20 budget.
Page one and two were given to the committee, but those pages will have to be updated with the new numbers, and the rent from the health department.
8. New Business
a. Approval of Resolution 2018/19 #68 to send RLF money to State
This will be moved to September agenda. Before we can make an application, we have to release the money to the state. Chip Energy has not given us any indication of their desires. We plan on releasing the money to the state at the end of September, so Chip Energy will have to commit to an option soon. Mr. Cummings gave the committee an update project list, but it is still evolving. There are no projects in Secor. Mr. Cummings is still visiting with people trying to come up with projects. Once we submit the application, we can make no changes. There has to be a public meeting to inform the citizens of what will be done. This meeting has to take place before the board, and there has to be a meeting for each application. It was deterinined that the 1st public meeting will be held at 6:00 on September 17 before the board meeting. The second public meeting will be at 6:15 on September 17, and the board meeting will be held at 6:30. Mr. Cummings will write the notice, and take care of publishing it. Discussion on what papers to publish it in. It was felt that the Woodford County Journal and the Peoria Journal Star would reach the most citizens.
b. Update on Organic Farming Mayors Meeting
We will discuss this next month.
c. Changes to Tri-County MOU
Germantown Hills recommended changes to the MOU. The committee doesn't have any problems with the changes, but will wait till next year to implement as some of the townships have already had their board approve the prior changes and have returned their signed MOU and we are not going to ask them to do it again.
d. Approval of Block Grant Project Application #2
Motion to approve application #2 made by Davis, seconded by Kempf, Motion passed.
9. Unfinished Business
10. Other
11. Executive Session
12. Any Action Coming Out of Executive Session
13. Adjournment
Motion to adjourn made by Hill, seconded by Cotton. Motion passed.
https://www.woodford-county.org/AgendaCenter/ViewFile/Minutes/_08132019-965