George Shadid remembered as a one-of-a-kind guy on Senate floor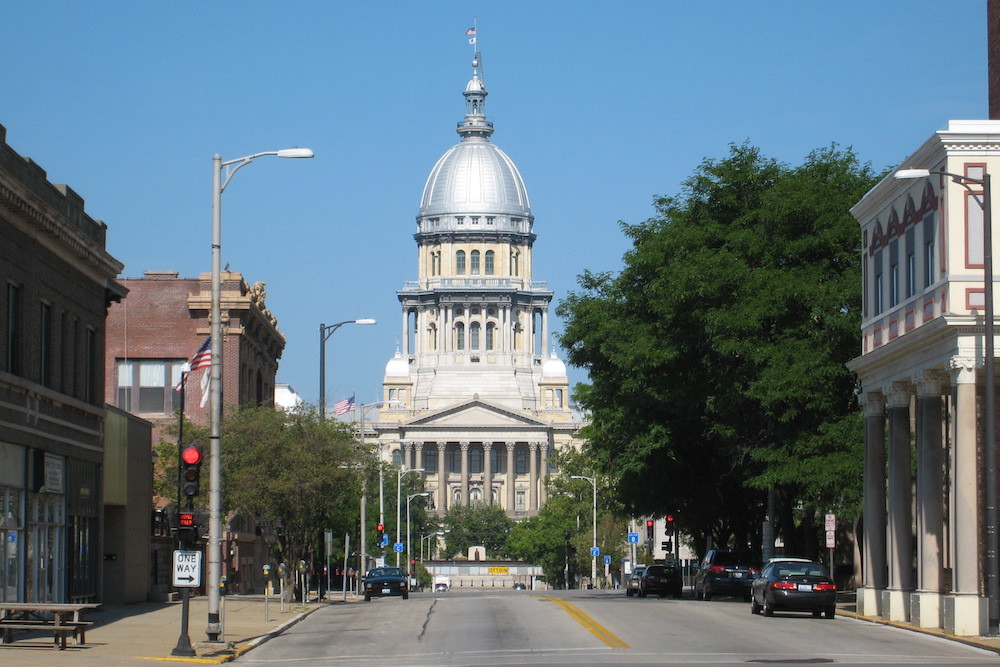 Springfield, Illinois | By Éovart Caçeir at English Wikipedia, CC BY-SA 3.0, https://commons.wikimedia.org/w/index.php?curid=10535377
Even at 88 years old, former state Sen. George P. Shadid is gone too soon, according to his peers.
Shadid, who died Feb. 3, was the Peoria sheriff from 1976-1993, the first Democrat elected to that post since 1892. He went on to become elected to the 46th Senate District seat in 1993.
Shadid held a Senate seat for 13 years, with then-Sen. Barack Obama as his seatmate, before retiring in 2006, then handing over the seat to Sen. David Koehler (D-Peoria), who sponsored SR1385 in Shadid's honor.
"Not all of you got a chance to serve with George Shadid, but for those of you who did and the staff that remember him you know he was a one-of-a-kind guy," Koehler said.
Shadid's passing is the end of an era "of this kind of leadership in Peoria," according to Koehler, who shared sentiments he shared with Shadid's loved ones at a wake for the former senator over the weekend.
"Two days before he passed away Saturday morning, (former) President Barack Obama called (Shadid's son) Jim to find out how his dad was doing," Koehler said. "That friendship was just so much a part of who George was."
But Obama was just one among many of his beloved, he said.
"The stories were numerous," Koehler said, adding if you were ever around him, he had that kind of charisma that was electrifying. "He was one of those kind of people that if he was in a room, you knew he was in the room because he was everybody's friend."
He called Shadid his mentor and recalled how he himself became a senator because of Shadid.
"When he decided to retire he called me in and asked if I wanted to run for his seat," Koehler said. "Of course I was flabbergasted and said 'absolutely,' He stood with me all along the way."
He said the son of Peoria will be missed.
"I just want to thank you, George, for the life you led and what you meant to me," Koehler said.
Senate President John Cullerton (D-Chicago) said that at one point, everyone in the room will have a resolution read about them.
"I just have to tell you as sad as I was when I heard, I just broke into a smile thinking about George Shadid," Cullerton said. "He was the most unassuming, but he had this phenomenal smile and laugh that just was infectious."
Republican Leader Sen. William Brady (R-Bloomington) said Shadid was a delightful man.
"He was always a guy who I thought set partisan politics aside to work together to accomplish good things for his area," Brady said. "For those of you who didn't have a chance to meet him, it is too bad because he was a true gentleman."
Sen. Chuck Weaver (R-Peoria) said he did not have the honor of working with Shadid but knew him since he as a young man.
"You couldn't be more correct, there was not a person who didn't enjoy being around him," Weaver said.
Weaver said the greatest honor a man can leave behind is the legacy of their children, adding Shadid's sons, federal Judge James Shadid and Georgie are as wonderful as their father.
"Not only was he respected here, but he did an amazing job as a parent," Weaver said.
Want to get notified whenever we write about
Illinois State Senate
?
Next time we write about Illinois State Senate, we'll email you a link to the story. You may edit your settings or unsubscribe at any time.
Sign-up for Alerts
Organizations in this Story
More News