Peoria County Board Budget Subcommittee discusses decreased funds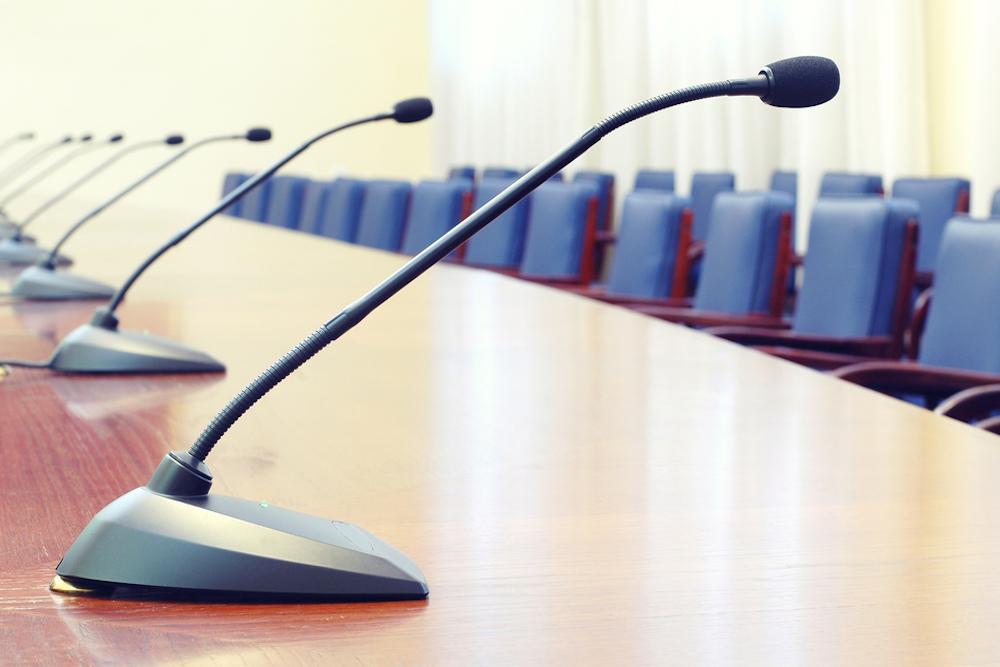 The Peoria County Board Budget Subcommittee met Nov. 15 to discuss decreased funds.
Here is the meeting's agenda, as provided by the board:
Approved 1/4/2017
Minutes
BUDGET SUBCOMMITTEE
November 15, 2016
@ 3:00 p.m.
Chairman Fennell called the meeting to order at 3:15 p.m.
Call to Order
A motion to approve the minutes of October 27, 2016 was made by Mr. Baietto and seconded by
Approval of Minutes
Mr. Salzer. The motion carried.
Mr. Baietto introduced representatives of several groups who assist individuals with special needs.
The spokesmen and spokeswomen for several organizations spoke to the continued and ongoing
needs of this vulnerable population. The members of the County Board were thanked for their
support of the advisory referendum which advocated an increase in the levy for the Care &
Treatment Board, and were encouraged t to move forward with increasing the levy to the fully
proposed amount. Mr. Mayer stressed that there has been every indication from County Board
members that they will honor the will of the voters, and emphasized that the two funds (Care &
Treatment and Veteran's Assistance Commission) are completely separate from the General Fund.
Informational Items/Reports/Other Minutes/Updates
Mr. Dubrowski advised that the General Fund and Overall Fund reports include the 2015 final
budget, final actual, year-to-date and percentage year-to-date. He advised that 2016 information
includes current year-to-date, budget year-to-date and percentage received and spent.
Monthly Financial Report
Mr. Dubrowski advised that Fund Balance has seen a $1.7 million decrease for the year-to-date.
MEMBERS
PRESENT
James Fennell - Chairman; Mary Ardapple, Robert Baietto, James
Dillon, Allen Mayer, Stephen Morris, Thomas O'Neill, Michael
Phelan, Andrew Rand, Paul Rosenbohm, Phillip Salzer, Sharon
Williams
MEMBERS
ABSENT
OTHERS
PRESENT
Scott Sorrel - County Administrator; Mark Rothert, Shauna
Musselman - Assistant County Administrators; Larry Evans, Jerry
Brady - State's Attorney's Office; Eric Dubrowski - Chief Financial
Officer; Randy Brunner - Finance; Angela Loftus, Gretchen Pearsall -
County Administration; Matt Wahl, Kathi Urban - Planning & Zoning;
Doug Gaa, Denise Patton - Sheriff's Office; Jamie Harwood - CoronerElect;
Dan O'Connell - Facilities Director; Gene Huber - Health
Department; Beth Derry, George McKenna - Regional Office of
Education; Carol Van Winkle - Auditor; Karen Raithel - Sustainability &
Resource Conservation; Tripp O'Connor, Nicole Demetreas - Treasurer;
Amy Benecke McLaren - Highway; Rena' Parker, Jennifer Shadid -
Courts Administration; Mark Little - Chief Information Officer; Dave
Ryan - Supervisor of Assessments; Steve Sonnemaker - County Clerk;
Kim Cornwell - EPIC; Patti Gratton - Community Workshop & Training
Center; Jim Runyon - Easter Seals; Todd Baker, Greg Chance - Care &
Treatment Board; Brad Guidi - Camp Big Sky; Chris Kaergard - PJS
Mr. Dubrowski briefly summarized several funds showing decreases, including County Bridge,
Employee Health and Heddington Oaks. He commented that Sales Tax continues to be
problematic due to the local economy; conversely Local Use Taxes (internet sales) have shown
growth. Income Tax and Corporate Personal Property Replacement Tax show decreases while
Motor Fuel Tax has shown a healthy increase over last year.
Mr. Dubrowski advised that Heddington Oaks patient income stands at $8.9 million year-to-date,
and total operating costs prior to depreciation stand at $8.7 million. Policy directed operating
income is up at $167,000.00, although when depreciation is added, the result is a $745,000.00
deficit in operating income. He stated that the current Heddington Oaks census stands at 163 as of
October 2016, with 94 Medicaid, 58 Private Pay (26 Private Pay/Medicaid pending) and 11
Medicare.
The meeting was adjourned by Chairman Fennell at 3:30 p.m.
Adjournment
Want to get notified whenever we write about
Peoria County Board
?
Next time we write about Peoria County Board, we'll email you a link to the story. You may edit your settings or unsubscribe at any time.
Sign-up for Alerts
Organizations in this Story
324 Main Street
Peoria, IL - 61602
More News